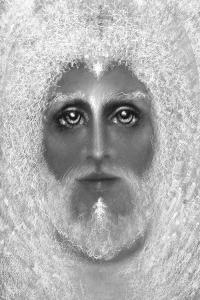 HOUSTON, TEXAS – September 2014,
Prophetic artist Vicki Lynn Thomas announced the Massachusetts Bible Society, located in Newton Centre, MA, published a full-page feature presentation of her pastel Eikon, the "Son of God." The selected portrait of Christ appears in the third book of a four-part study course designed to explore the Bible.

The prestigious 200-year-old Massachusetts Bible Society sought permission to publish the Son of God pastel with expressed interest in a black and white image for publication requirements. Endorsed by the artist, this striking image appears in (Introducing the New Testament) The Dickinson Series: Exploring the Bible. A color miniature of the original is included in the site header, http://www.exploringthebible.org.

Ms. Thomas resides in Houston, TX. "I am immensely thrilled to accommodate the Massachusetts Bible Society. Fine Art America was instrumental in the initial contact." ...